We entered Mafómedes along that organized road, shaped by generations. We arrived at 9am and didn't see a single human form, nor did we hear any noise. I remembered Flávia, a work colleague who just a few weeks ago embarked on a new professional experience with me, eager to experience life in the city: what would she say when she arrived at that heap of roofs distributed, without criteria, in the valley of the River Teixeira, without a glimpse of soul?
We started the trail a few meters from the "Tasca do Valado" restaurantup the mountain, always climbing until we reached the Chapel of Nossa Senhora do Marão, at the top of the mountain, at an altitude of 1416 meters (it was not the same trail as in https://myrun.pt/2021/04/12/o-tempo/). At this time of year (this year in particular) the mountain's setting doesn't have the explosions of yellow and purple of summer, nor does it carry the weight of the regular white blankets of winter, but it's still colossal and transformative.
For almost three kilometers, we climbed a path of disorganized stones, torn through an undisturbed slope of granite and low, uniform vegetation. All around us, waves of bottle green were drawing giant curves on a cloudless horizon and we could hear nothing but the gusts of a sharp wind.
Three kilometers in and we were on a fairly wide dirt track, not very technical but challenging, embedded in clusters of maritime pines, seasoned with carquejas and heather. We only came across a technical climb again, less than a kilometer from the chapel, and the sound we heard most was the wheezing of our straining bronchi.
We arrived at the chapel and couldn't help stopping at the viewpoint to take in the majestic setting of giant granite sculptures, drawn in uniform curves, dressed in neatly trimmed green uniforms.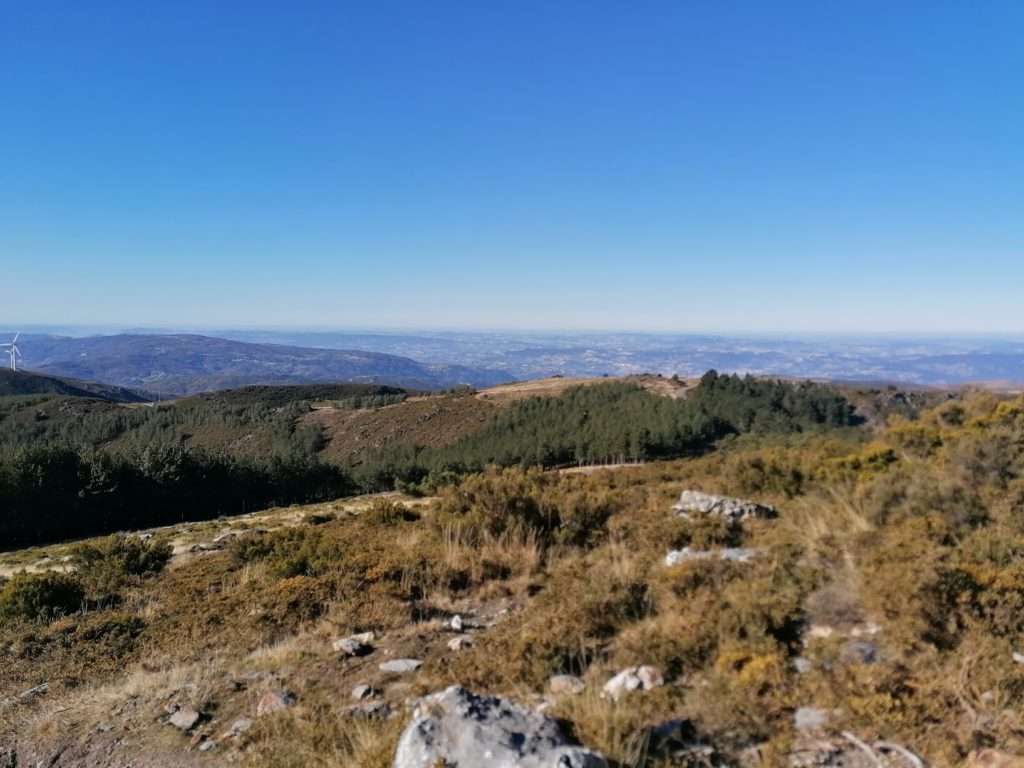 I tried to call Flavia, but there was no reception. I wanted to know if she'd had any trouble finding the entrance to the hospital. She'd asked me for directions because she wanted to give blood but didn't know where to go because she's only been living in Porto for a few weeks. She left home with no back-up, no parents to lean on, no friends to support her and no boyfriend to challenge her. She came because she didn't fit into the limiting beliefs she (almost all of us) had been brought up with. She came because her order of priorities and her concept of success didn't fit into social standards. She came with fear, but she came and I was lucky that she came to work with me. In fact, I've had the privilege of working with incredible people of the same age (between 20 and 25). I don't know which letter gives the sociological definition for the generation of people born between 1997 and 2002, or even how many generations fit into this period. Nor do I know what characteristics are attributed to them. But I constantly hear people talking about a generation younger than me, which is going through a deep crisis of identity, values and lack of opportunities. A generation that is complacent, disillusioned and has no prospects, that sits at home with their parents and accumulates diplomas without taking risks or developing. I've had the privilege of working with very different young people: Flávia now, Ana Sofia, Sara, Luis and others, all between fifteen and twenty years younger than me, confident, self-taught and responsible. They work not out of necessity, but out of a desire to add value, to contribute, to be useful. They break down stereotypes, ignoring definitions of gender, age or class. They help and integrate their colleagues, undermining their goals, deconstructing labels. And, above all, they teach me to accept difference, to be constructive and to defend myself against the pressure of goals with a lot of tolerance and pragmatism. They are as simple and full as the immensity of the mountains.
After a short break, we descended to the starting point. Lightly gliding over open dirt tracks on arid slopes, we reached one of the trail's epic points: a vertiginous descent, made up of torrents of schist stones, sewn into an overwhelming slope of granite monuments: Paulo couldn't resist and sat down with Ester to take in the vastness of the horizon. The last two kilometers were once again on a flat trail, surrounded by cliffs and slopes of green, well-shorn blankets, with a perfect view of the village of Mafómedes. We finished, refreshed and ready for another Monday of work, in the company of Flávia and other colleagues from this formidable generation, whatever they call it.
Ana
Total distance:
14514 m
Max elevation:
1414 m
Min elevation:
761 m
Total climbing:
779 m
Total descent:
-805 m
Total time:
03:42:01
Download file:
mafomedes_srserra.gpx