The choice to take part in the first Ecotrail Porto was more Paulo's than mine. And what a good choice it was! Taking part in the Ecotrail was the choice to explore the bucolic trails of the Gaia Biological Park, stroke the backs of donkeys, greet the dwarf goats, absorb all the colors of the bouquets and geometrically cultivated fields.
It was galloping between granaries and threshing floors on the banks of the River Febros, it was Mr. António's elbow resting on his tired sachola, listening to the runners turning left in the vegetable garden, it was the kindness of the residents on the banks of the river who opened the doors of their houses and the warmth of their smiles, it was the spontaneity of Berit who I introduced to the parishioners of Avintes as if I knew them myself.
Participating in the Ecotrail was the choice to discover the vegetable gardens of Campanhã, Mr. Joaquim, firm handshake, complacent expression, growing sprouts and potatoes and explaining how the water got there from Monte da Virgem, the choice to do the race in twos, and then threes, four and five, first Paulo and I, then Berit, then Paulo and then Mário, it was the unconditional affection of friends, collaborating with the organization or just collaborating and me explaining to Berit that I didn't know everyone in the world, but only a large part of the people who were there.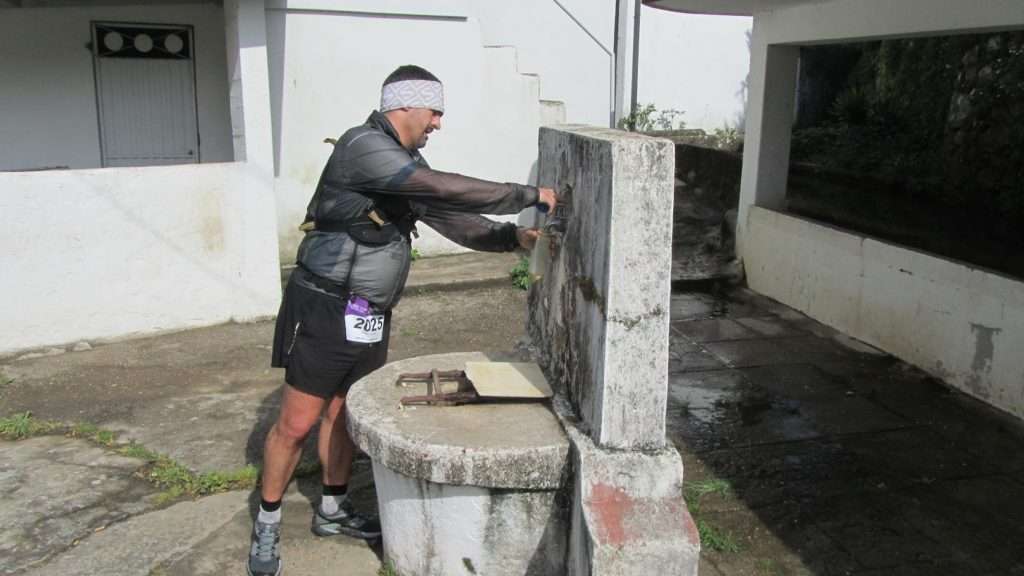 To walk the Ecotrail trails was to revisit what remains of the Alfândega line and dive into the remains of the railway tunnels embedded in the Fontaínhas cliffs, makeshift concrete windows overlooking the emerald green of the paternal and compassionate Douro, Berit waiting for us at the top of Carquejeiras, friends cheering us on and invading us with precious motivation, Paulo diving into all the fountains, pools and ponds to calibrate his warm temperature on a morning that was forecast to be rainy.
Completing the Ecotrail was the choice to take a chance on a concept that we hope will succeed, without pressure or anxiety, as a family and with so many families who crossed our path. And it was, for once, the right choice!
Ana.
Total distance:
20097 m
Max elevation:
86 m
Min elevation:
9 m
Total climbing:
362 m
Total descent:
-420 m
Total time:
02:48:46
Download file:
ecotrail_porto.gpx